The Economic Association of Namibia (EAN) would like to invite you to a breakfast meeting on the energy situation in Namibia titled Towards Energy Self-Sufficiency in Namibia to be held on the 3rd of April 2019 at the Fürstenhof Hotel in Windhoek.
Namibia's energy demand of about 600 MW outstrips its domestic generation capacity of approximately 400 MW. This shortfall is currently being met through power purchase agreements with regional neighbours, most notably ESKOM in South Africa.  ESKOM is however facing supply constraints of its own, which partly have led to load shedding in recent times. This makes Namibia's ongoing dependency on imports from neighbouring SA rather risky, increasingly costly and unsustainable in the long-term.
In light of this, the Breakfast meeting will discuss ways how Namibia can harness national resources and available technology to fill the current supply shortfall, moving the country towards energy self-sufficiency and possibly turning the country into a net exporter of energy in the future. The breakfast meeting will further explore ways how this process could be a catalyst for economic growth and job creation.
The Hon. Tom Alweendo will make a keynote presentation on Government plans in this respect while two more speakers will speak on ESKOM and on Namibia's renewable energy sector respectively.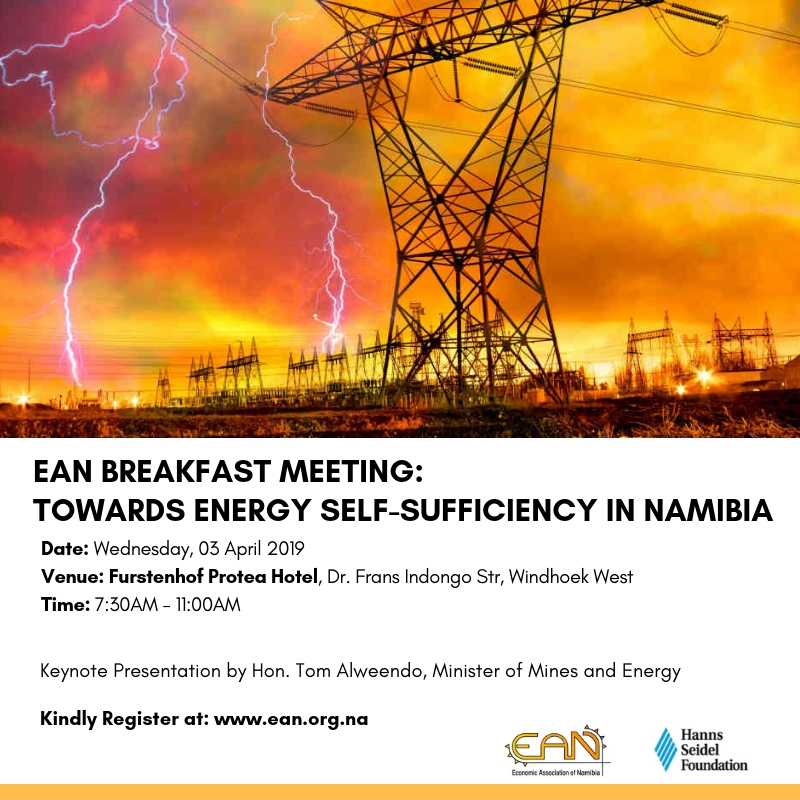 [gview file="https://ean.org.na/wp-content/uploads/2019/03/EAN-Breakfast-Meeting-on-Energy-Programme.pdf"]
Presentations
[gview file="https://ean.org.na/wp-content/uploads/2019/03/EAN-Namibia-Presentation-rev3.pptx"]
[gview file="https://ean.org.na/wp-content/uploads/2019/03/EAN_BusinessBreakfast_Speech_Draft.pdf"]