The Economic Association of Namibia would like to invite you to the launch of our first report in the EAN State-Owned Enterprises series, focusing on Namport. The EAN SOE series focus on the performance of State-Owned Enterprises and Entities scrutinising how such entities utilise public funds and explore reforms required to eliminate wastage and harness self-sufficiency.
The report which is entitled "Namport within the Context of a Logistics Hub" and is written by Rainer Ritter, provides an analysis of the operations of Namport, critically commenting on the huge investments that have gone into the Walvis Bay harbour and national roads network aimed at transforming Namibia into a logistics hub in the SADC region.
The report will be launched on Tuesday, 26 March 2019 at the House of Democracy on 70-72 Frans Indongo Str at 10 am.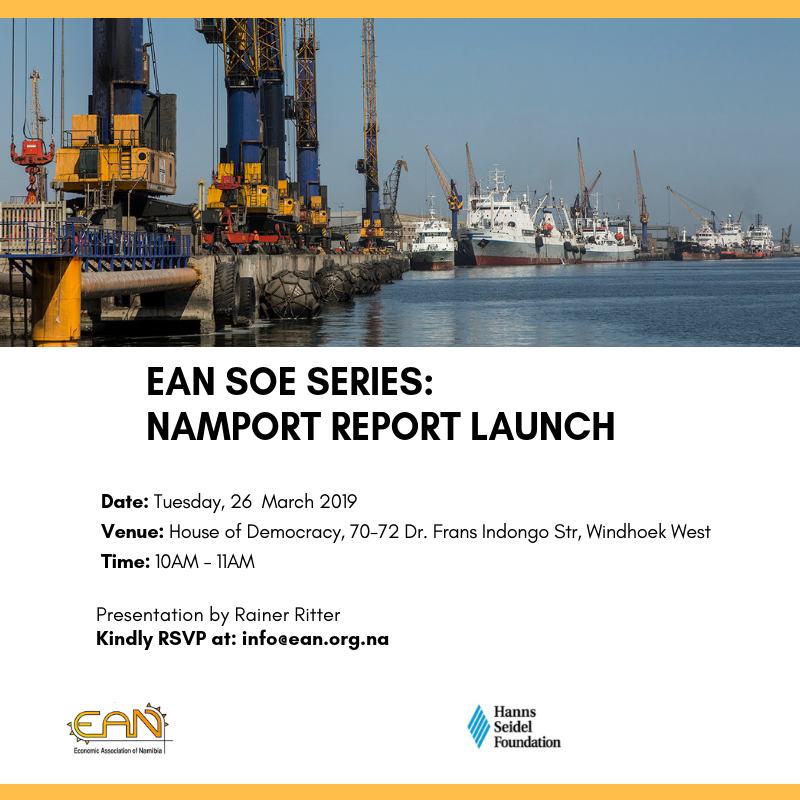 Reserve your attendance below!
[ESPRESSO_TICKET_SELECTOR event_id=5415]
Presentation and Report as below
[gview file="https://ean.org.na/wp-content/uploads/2019/03/Namport-within-the-context-of-a-logistics-hub.pptx"]
[gview file="https://ean.org.na/wp-content/uploads/2019/03/EAN_Namport_WEB-up-1.pdf"]